Take Your Clients Beyond
Their Expectations...
Build Them a Web Site That Works
Your design work is sharp and creative. Your clients like your sites. But they ask...
"So how do I get traffic?"
It's time to convert your satisfied clients into raving fans.
Experienced Webmasters are catching on to SBI!. Its C

T

P

M process is an easy, effective way to build sites that provide your clients with exactly what they want... warm, targeted, willing-to-buy traffic.
But let Don Coggan, a successful local Webmaster, tell you in his own words...
In 1996, I left engineering management cold turkey to get into the exciting World Wide Web. I describe my business by saying that I'm an Internet Business Consultant. This is to suggest that I do more than "webmastering." Around 2003 I heard about SBI. Then, in early 2005, I REALLY discovered it. Since then I've converted most of my clients' and my own sites over to SBI.
Video By Webmaster
Why This Webmaster
(And His Students) Love SBI!
My own sites were intended initially to test various hypotheses about what worked and what didn't work in terms of Internet marketing. I still use them for experimental purposes while at the same time making some money with them. The experimentation I've done has shown me that with SBI I can enjoy the CERTAINTY of getting results. Without SBI, I sort of knew what I was doing but I was never really sure about the outcome.
Without SBI, I was more or less trying things to see if (hoping) they would work. Based on my experience with SBI, I know the SBI methods work, so now it's just a question of doing the work, without agonizing over whether something will work or not.
With my results-oriented philosophy, using SBI, it's a LOT easier to sell my services to a potential client. It's also much easier to filter out the prospects that refuse to (or cannot) see a web site as anything more than an electronic brochure.
My advice to webmasters considering SBI is to give it a fair try - as soon as possible. Contact other SBI webmasters who are part of a community that so generously shares its experiences and offers advice. Above all, follow all the recommendations of the superb Action Guide. And if you're stubborn in your ways, as most of us webmasters seem to be, resist the urge to keep on doing things the way you've always done them! ;-)
Don Coggan
Webmaster, Canada
www.coggan.com
Needless to say, the same applies no matter what WYSIWYG HTML Editor you use (from Dreamweaver to open source Nvu). It is indeed all about greater results for your clients, with less effort by you. In other words... productivity.
You won't have merely satisfied clients. You'll have raving fans who send more business your way. And, due to your enhanced productivity, you'll be able to handle the extra business. It all adds up to a more profitable bottom line.
Snap Your HTML/Design Into The Power And Automation Of SBI!
Video By Webmaster
"I Love My SBI!" (A Music Video)
Take your creative designs/page layouts/copy that you have fashioned with your favorite HTML Editor and graphic software (yes, you can do all the usual CSS, JS and cutting edge design/layout that you want). Then simply plug it into the powerful, integrated functionality of SBI!. Here's how...
Upload your page. Next, go to Starbucks and download a coffee...
Let SBI! handle everything else, from automating Google Sitemaps/Yahoo! Site Feeds to building sophisticated inbound link programs.
SBI! even tracks spider visits and page indexing/ranking by the engines. It manages your pages in the background, backed by the power and intelligence of a unique master database of information.
And it does this for every page. No matter how many. At no extra cost.
Keyword search reporting? Routine. Unique tools like image search reporting, too. The feature set is so complete that nothing compares to it.
How much extra for the most recent feature additions? The usual? Nothing, SBI! is still the same old price, much less than a tenth of its true value.
Deliver Value-Added Services
This complete set of tools empowers you to finally deliver high-visitor-volume sites to your clients. But then go further...
Use SBI! to deliver value-added services. SBI!'s e-mail marketing, real link-building program-&-infrastructure (called "Value Exchange") and pay-per-click research/mass bidding tools are just a few more of the modules included in SBI!'s comprehensive value bundle.
In other words...
SBI! handles all the tedium and lets you move on to your next client.
Try it for the next SSB owner who "walks in the door." No matter what we show you as proof on this site, you will always have a slight doubt. But seeing (the results) is believing...
SBI! Gets Results
Sites built using SBI! consistently get high traffic, as a recent Alexa.com survey shows.
62% of active SBI! sites fall within the top 3% most popular sites on the Internet, 53% fall within the 2% most popular and 35% are in the Top 1%.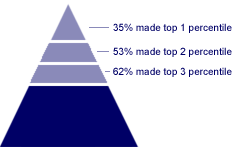 Summary of Results
35% of SBI! sites ranked in the top 1%
of all sites (i.e., higher than 99% of all
sites on the Web).
53% were in the top 2%.
62% scored in the top 3%.
---

---
Take Your Clients Beyond Their Expectations... Simplify And Maximize
Simplify your professional life and maximize your productivity.
OVERdeliver results for your clients.
And what if SBI! does not exceed your expectations? What if you do not exceed your client's expectations?
Take advantage of our money-back success guarantee.
A hint: The guarantee is always there. But you won't be needing it.
Save Time and Money
SBI! includes many tools which you would normally buy individually, and which automate so much of your drudgery and tedious maintenance work. It also includes features that aren't found anywhere else, at any price.
The Net result?
Simplicity. Coordination. Focused work on what counts. Reduced costs. Results. Delighted clients.
SBI! changes the way you work. And we all tend to resist "change."
Your greatest danger?
Resisting change. Don't decide that what you do now "works." It doesn't, not in the way that SBI! works.
SBI! works so well that Webmasters naturally tend to feel that, when compared to all the time and money they spend on their current tools, SBI! must be "too good to be true."
Convinced that building successful sites needs to be difficult, three misconceptions have emerged. They are common among Webmasters, as if there must be some sort of tradeoff for using SBI!...
Limited Look & Feel and functionality. False. Whatever you can create with Dreamweaver and Photoshop, you can do in SBI!, too.
Takes too long to create a page. False. 99% of the time to build a good content site is consumed by creating the content, not uploading a page. While SBI!'s database-driven process will take you a few seconds longer to upload a page the first time, you'll save countless maintenance and "keeping up" hours after that.
It simply can't work if it's so cheap and easy. False.. The odds are that average business people are outperforming your sites, and taking much less time to do it.
Links of Interest...
Click here to compare SBI! Web hosting against "conventional" (i.e., old-fashioned) Web hosting.
For more information about SBI!'s complete set of features and tools, click here.
For a complimentary taste of SBI!, try these valuable resources, free.
---
---
Focus On Building A Business
It's not about putting up a site. It's not about blogging, either. Build a business instead. Actually, build two... your client's and yours.
The way to build Web sites has changed. SBI! lets you focus on building success for your clients, instead of the tedious administration of hosting, domain names, SEM, links, PPC research-and-tracking, and all the other mind-numbing, time-consuming chores.
The SBI! system works without compromising design or site functionality. Create your site using your favorite HTML and graphic (and other) software. Upload the files. Let SBI! do the rest.
Not only will you build your client's business, you'll build yours...
because your profit-per-site will increase
because you will have time to handle more clients, and
because raving-happy clients tell their friends.

Simplify... And Maximize Your Productivity
Order And Try It Today Risk-Free
Use SBI! to build Web sites that work. Try it with your very next Small-Small Business client.
With the assistance of SBI! and its unmatched productivity and results, you will deliver an attractive and effective, traffic-generating site in less time, within budget... at a solid profit.
Good for your bottom line... and your client's!